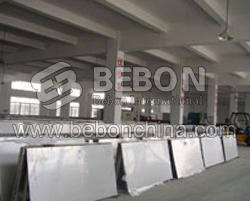 A 299 and A 299M covers manganese, silicon carbon steel plate for used in welded boiler and others pressure vessels in steel grade A299 Grade A and A299 Grade B.

1. Steel Grade: A 299 Grade A, A 299 Grade B, A299 Grade A and A299 Grade B, steel plate,

2. Supply steel Size:
Thickness: 8mm to 200mm
Width: 1500mm to 4200mm
Length: 4000mm to 18000mm
3. Adopt Standard: ASTM A 299 and ASME SA 299
4. Heat Treatment: Hot Rolled, CR, Normalized, Quenched, Tempering, TMCP, Electroslag Remelting Technical, HIC test.
5. Delivery Time: 30-40days
6. Payment Item: 30% TT, or LC and TT.
7. Steel Services: Cutting, Painting, Ball blast, Pretreatment , and The third party inspection in DNV, BV, LR, GL, ABS, CCS , CE Mark, TUV, ISO, and others in super thick ship steel plate.
BEBON STEEL has many stock in steel plate stock in china warehouse.
BEBON STEEL is specialized in super thick boiler steel plate and cooperated with ABS, BV, DNV, CCS, GL, LR, KR, NK, and RINA Classification Society to approve the super thickness plate to 200mm now.
Besides that, BEBON STEEL Boss is a manufacture manger, so we could promise the delivery time and the competitive price comparing with other company.
We sincerely hope new and old customers come to visit our mill and inquiry from BEBON STEEL.
If you need A299 Grade A,A299 Grade B,A299Gr.A,A299Gr.B,steel plate,please catact us.