301 stainless steel bars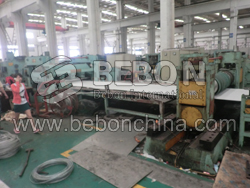 301 stainless steel bar is the most widely used stainless steel and heat-resistant steel. 301 stainless steel bar is mainly used in food production equipment, chemical equipment through past, nuclear energy.301 stainless steel bar (17Cr-7Ni-carbon) material, compared with 304 steel, has lower Cr, Ni content, less tensile strength and hardness increased when cold-processed, non-magnetic but after cold working.
301 stainless steel bars detail information:
Specification
1mm-500mm
Weight Calculation
diameter*diameter*0.00623=kg/m
Mechanical Property
Tensile Strength N/mm2
Yield Strength N/mm2
Elonga-tion %
Hardness
Density
Melting Point
Resisti -vity
≥520
≥205
≥40
HB
HRB
HV
7.93 g·cm-3
1398- 1420℃
0.73 Ω·mm2·m-1
≤ 187
≤ 90
≤ 200
Chemical Composition
Si
C
 Mn
Ni
Cr
P
S
≤1.0
≤0.15
≤2.0
6.0-8.0
16.0- 18.0
≤0.045
≤0.03
If you need 301 stainless steel, welcome to contact BEBON STEEL. BEBON STEEL is a professional steel suplier, you can believe it completely. Becouse of our unremitting efforts, our service has already spread many countries in Europe , America, Southeast Asia, Middle East, South America, Africa, etc.
Source:
Related Products