Shipbuilding steel , also can be called hull steel , is divided into the following types : steel plates, angle steel , flat-bulb steel, and flat bar, steel pipe, and steel bar. Above , there is main steel type for shipbuilding. Or sometimes , stainless steel also will be used in shipbuilding.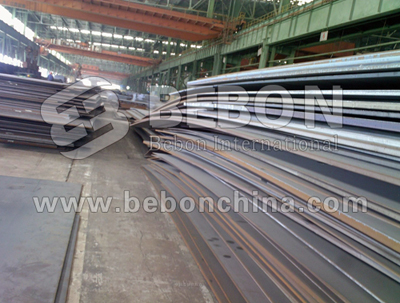 Shipbuilding steel
Almost every country has their classification society. But ,only several society are usually accepted by most of the user, like : ABS , BV , DNV , GL, LR, NK, RINA.
Bebon steel as the No.1 steel exporter in china. We have the enough strength and advantage offer our clients best service with the competitive price and good quality.
Productive technology of our shipbuilding steel are : hot rolled(HR), control rolled(CR) Thermo Mechanical Control Process(TMCP), Normalized , Q&T, impact test, Z15,Z25,Z35.
Clients can be never worried about our steel quality, not only because of the quality-controlling from the classification society , but also from our steel mill. We offer Mill Test Certificate , whose information can match the HARD stamp on the shipbuilding steel plates by brand of manufacturer, Heat No.,Batch No., steel grade, steel size, and the brand of Classification Society.
We also have a pre-treatment process line can offer our clients shot blasting and shop primed service on the shipbuilding steel. Blasting is according to SA2.5 standard, and the coating thickness of the shop primer painting is 15-35 micrometer.
Steel grade of the shipbuilding steel we offered are A, B , D, E, AH32, AH36, AH40, DH32, DH36, DH40, FH32, FH36, FH40, 2HCR50 in ASTM A131 and API standard.
Grade

Classification Society

ABS

BV

DNV

GL

KR

LR

NK

RINA

AR、CR

TMCP

N

AR、CR、N

TMCP

A

AB/A

AB/AN

KRA

B

AB/B

AB/BN

KRB

D

AB/DN

AB/DN

KRD

E

AB/E

AB/EN

KRE

AH32

AB/AH32

AB/AH32N

KRAH32

DH32

AB/DH32N

AB/DH32N

KRDH32

EH32

AB/EH32

AB/EH32N

KREH32

FH32

AB/FH32

AB/FH32N

KRFH32

AH36

AB/AH36

AB/AH36N

KRAH36

DH36

AB/DH36N

AB/DH36N

KRDH36

EH36

AB/EH36

AB/EH36N

KREH36

FH36

AB/FH36

AB/FH36N

KRFH36

AH40

AB/AH40

KRAH40

DH40

AB/DH40

AB/DH40N

KRDH40

EH40

AB/EH40

AB/EH40N

KREH40

FH40

AB/FH40

AB/FH40

AB/FH40N

KRFH40

LRFH40

AH420

AB/AQ43

AB/AQ43

AB/AQ43N

BVAH420

NV A420

GL-A420

GL-A420TM

KRAH43

LRAH42

NKA43

RINA-A420

DH420

AB/DQ43

AB/DQ43

AB/DQ43N

BVDH420

NV D420

GL-D420

GL-D420TM

KRDH43

LRDH42

NKD43

RINA-D420

EH420

AB/EQ43

AB/EQ43

AB/EQ43N

BVEH420

NV E420

GL-E420

GL-E420TM

KREH43

LREH42

NKE43

RINA-E420

FH420

AB/FQ43

AB/FQ43

AB/FQ43N

BVFH420

GL-F420

GL-F420TM

KRFH43

LRFH42

NKF43

RINA-F420

EH460

AB/AQ47

AB/AQ47

AB/AQ47N

BVAH460

NV A460

GL-A460

GL-A460TM

KRAH47

LRAH46

NKA47

RINA-A460

DH460

AB/DQ47

AB/DQ47

AB/DQ47N

BVDH460

NV D460

GL-D460

GL-D460TM

KRDH47

LRDH46

NKD47

RINA-D460

EH460

AB/EQ47

AB/EQ47

AB/EQ47N

BVEH460

NV E460

GL-E460

GL-E460TM

KREH47

LREH46

NKE47

RINA-E460

FH460

AB/FQ47

AB/FQ47

AB/FQ47N

BVFH460

GL-F460

GL-F460TM

KRFH47

LRFH46

NKF47

RINA-F460

API 2HCR50
Source:
Tags: