S355N STE355 AE285KG AE3555KW FE E 355KGN E355R 2134-0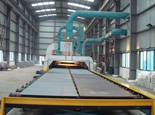 S355N steel is a structural steel grade. S means structural steel, 355 means min yield strength for thickness less 16mm expressed in Mpa, N mean the delivery condition.

Bebon steel could provide max thickness to 350mm by using ingot. Max width 3800mm, we also could do the UT test, impact test, Chemical analysis, mechanical test, and Simulated may treatment according to our customer requirement.
About S355N steel detail information,please refer to technical date in following.
| | |
| --- | --- |
| EN 10025-3 MATERIAL#1.0545 | Comparison of steel grades |
| | AE355KG/AE355KW |
| DIN17102 | |
| NFA 36-201 | |
| BS4036 | - |
| UN | Fe E 3555KG N |
S355N structural steel Chemical analysis -% by mass
*
Chemical elements

C

max

Si
max

Mn

P
max

S
max.

Cu

max

Cr

max

Ni

max

V

max

Nb

max

Al

min

%,by mass

0.20

0.50

0.90-1.65

0.030

0.025

0.55

0.30

0.50

0.12

0.05

0.02




S355N steel Mechanical properties
thickness

Yield StrengthReH[N/mm2]

transv.min.

TensileStrengthRm[N/mm2]transv.

Fracture Elongation[%]transv. min.

Notch Impact

Energy1)Ch Vcomplete samplelongitud. min [J]

t≤ 16mm

t >16mm

355

345

+20 KV 31J

470-630

Up to 1.5mm

1.51-2.00mm

2.01-2.50mm

2.51-2.99mm

≥ 3mm

22
Source:
Tags:
Related Products