Pressure vessel and boiler quality steel are commonly used throughout the oil industry (including inshore and offshore), the petrochemical industry and the gas production industry.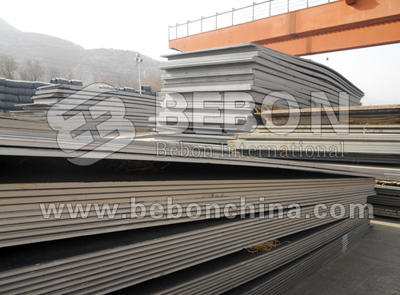 Steel for Boilers and Pressure Vessels
Boiler steel plate has good strength, it can be made of boilers and components to withstand a certain long-term high temperature stress; Boiler steel plate has good toughness and low effectiveness of the tendency in the use of bending, curling, deformation processing such as cold, after more prolonged storage and use remains a good toughness; Boiler steel plate also has good weldability and resistance to intergranular corrosion. For the manufacture of boiler drum, beams and wall panels.
Steel for Pressure Vessels contains:Low-temperature low-alloy steel for pressure vessel, normal temperature pressure uses the steel,Quenched and tempered high strength steel plates for pressure vessels.
The delivery condition of Boilers and Pressure Vessels Steel are: Normalize, annealing,tempering,TMCP,PWHT, impact test,Q&T.
The main steel grade of Pressure vessel and boiler quality steel are :
EN 10028-2: P235 GH, P 265 GH, P 295 GH, P 296 GH, P 355 GH
EN 10028-3: P 275 N, P 275 NHP, 275 NL 1, P 275 NL 2, P 355 N, P 355 NH, P 355 NL 1, P 355 NL 2
DIN17165 : HI , HII, 17 Mn 4, 19 Mn 8
DIN17102: St E 255, W St E 255, T St E 255, E St E 255, St E 285, W St 285, T St E 285, E St E 285, St E 315, W St 315, T St E 315, E St E 315. St E 355, W St E 355, T St E 355, E St E 355.
JIS G 3115: SPV 235, SPV 315 ,SPV 355
JIS G 3103: SB 410 ,SB 450, SB 480
ASTM: A 285gr.A/B/C, A299, A441, A442gr.55/60, A455, A515gr55/60/65/70, A516gr55/60/65/70, A 537CL1/2/3, A 612, A 622grA/B/C. A737grB/C.

Europe

Germany DIN

franch

Japan JIS G

USA

EN 10028-2

EN 10028-3

EU 113

17135

17165

17102

NFA36205

3115

3103

ASTM

FeE255
KG KW,KT

St E 255

SPV 235

SB 410

A 285gr.A,B,C

W St E 255

T St E 255

A 37 CP, AP,FP

A299

E St E 255

A441gr.55,60

FeE285
KG,KW,KT

St E 285

A442 gr.55,60

A455

FeE315
KG,KW,KT

A St 45

St E 315

SPV 315

SB450

W St E 315

T St E 315

E St E 315

A St 52

19 Mn 8

SPV 355

SB 480

W St E 355

A 612

E St E 355

A 622gr.A,B,C

A737gr.B,C
Source:
Tags: