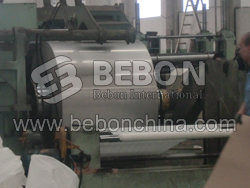 AISI 316 stainless steel is the standard molybdenum-bearing grade, second in importance to 304 amongst the austenitic stainless steels. The molybdenum gives AISI 316 stainless steel better overall corrosion resistant properties than Grade 304, particularly higher resistance to pitting and crevice corrosion in chloride environments. AISI 316 stainless steel has excellent forming and welding characteristics. AISI 316 stainless steel is readily brake or roll formed into a variety of parts for applications in the industrial, architectural, and transportation fields.
AISI 316 stainless steel also has outstanding welding characteristics. Post-weld annealing is not required when welding thin sections. AISI 316 stainless steel is extensively used in heavy gauge welded components .
AISI 316 stainless steel Chemical Composition
Grade
C
Mn
Si
P
S
Cr
Mo
Ni
N
316
Min
-
-
-
0
-
16.0
2.00
10.0
-
Max
0.08
2.0
0.75
0.045
0.03
18.0
3.00
14.0
0.10
AISI 316 stainless steel Typical physical properties
Grade
Density
(kg/m3)
Elastic Modulus
(GPa)
Mean Co-eff of Thermal Expansion (µm/m/°C)
Thermal Conductivity
(W/m.K)
Specific Heat 0-100°C
(J/kg.K)
Elec Resistivity
(nΩ.m)
0-100°C
0-315°C
0-538°C
At 100°C
At 500°C
316/L/H
8000
193
15.9
16.2
17.5
16.3
21.5
500
740
BEBON STEEL has the most comprehensive service. one package service will be offered,including cutting,welding, drilling, shot blast cleaning, derusting, painting, galvanized, etc, our service will be around your requirement and ensure the perfect service.
The surface finish type of AISI 316 stainless steel we can supply are : 2B, NO.1/#1, 2D, NO.3, NO.4 .....
AISI 316 steel surface finish type 2H: Work hardened by rolling to give enhanced strength level. Various ranges of tensile or 0.2% proof strength are given in EN 10088-2 up to 1300 MPa and 1100 MPa respectively dependent on grade.
The pursuit of excellence in quality, all the time, is BEBON STEEL's goal. Good quality ensures your satisfaction. If AISI 316 steel has any question, we can solve it for you immediately.
Source:
Tags: stainless steel, 316 steel, BEBON STEEL