API 5L A,API 5L B steel plate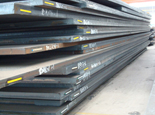 API 5L is an American standard. At first, it only includes GR.A,GR.B,A25 three grades. Later, more grades appears, X42,X46,X52,X56,X65,X70,X80,X100 and so on.
Compared with API 5L A, GR.B is more common to be used.
As the predecessor at API 5L standard,also named pipe line steel, GR.A and GR.B steel plate are mainly used for manufacturing gathering and delivering pipe or long delivering pipe for oil and gas, or transporting pipes of coal and building-material slurry.
As a professional exporter in steel line, henan bebon can supply you 5-40mm thickness, 1000-3000mm width API 5L A and API 5L B plate. Besides, henan bebon also builds a system of E-STOCK, to help you find the stock plate in the website,also purchase at the same time.
So if you need API 5L A, API 5L B,just do not hesitate to contact us by mail([email protected]),or visit our website(www.bebonchina.com). We do offer you good quality steel at competitive price.
we also supply API X56 steel plate , API X80 steel plate, API 5L X42 steel
Source:
Tags:
Related Products