SUS 316Ti steel chemical,JIS G4303 SUS 316Ti stainless properties
JIS G4303 SUS 316Ti Stainless steel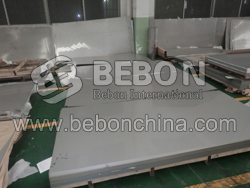 SUS 316Ti stainless steel contains a small amount of titanium.Titanium content is typically only around 0.5%. The titanium atoms stabilise the structure of 316 stainless steel at temperatures over 800°C. This prevents carbide precipitation at the grain boundaries and protects the metal from corrosion.
SUS 316Ti stainless steelchemical composition is :
C ≤

Si ≤

Mn≤

P≤

S≤

Ni

Cr

Mo

Cu

N

Others

0.08

1.00

2.00

0.045

0.03

10.00-14.00

16.00-18.00

2.00-3.00

-

-

Ti≥
5*C%
SUS 316Ti stainless steel main advantage is that it can be held at higher temperatures for a longer period without sensitisation (precipitation) occurring. SUS 316Ti stainless steel retains physical and mechanical properties similar to standard grades of 316 stainless steel.
BEBON STEEL is the most professional steel exporter in China, for we can provide the most comprehensive best quality steel in different grade and standard. Like: SUS 316Ti stainless steel. If you have need SUS 316Ti stainless steel, please contact BEBON STEEL.
Source:
Related Products