Chemical Composition of P235GH
What is P235GH steel ? Many person may not know it. Now, let me introduce it and open its mysterious veil.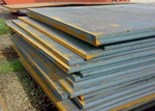 P235GH steel is a European specified steel. It is usually used in pressure vessels, boilers and heat exchangers. It is a kind of Boiler steel and a normalized carbon alloy steel.
The main chemical composition of P235GH includes C, Si, Mn, P, S, N, AL, Cr, Cu, Mo, Ni, Nb, Ti, V. Different chemical compositions have different content.Figures are shown in the table below.
Properties depend on different content. So when you select steels, you must be cautious.
BEBON STEEL can offer P265GH steel, we can give you P235GH Chemical analysis amd P235GH Mechanical properties.We register Hundreds of thousands of tons of ex-stock source on our spot trade flatform.If you are interesting in our ex-stock source, you can visit our web.
Source:
Tags:
Related Products