API 5L x42,x46,x52,x56 steel pipe&steel tube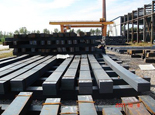 The API 5L grades establish requirements for two product levels ---PSL 1 and PSL2. All pipe is manufactured and inspected/tested to the relevant standards, including ASTM,ASME,API.
API 5L x42,x46,x52,x56 pipes are to provide standards for pipe suitable for use in conveying gas,water,and oil in both the oil and natural gas industries.
Line pipe grade designations come from API Spec 5L Specification for Line Pipe. Standard Line Pipe has grade designation A and B. Stronger grades, x42,x46,x52,x56, and so on., have the designation X followed by the specified minimum yield strength of the pipe steel,measured in kilopounds per square inch(abbreviated ksi).e.g. X42 for pipe having a minimum yield strength of 42 ksi.
The heat treating process shall be performed in accordance with a documented procedure. Pipe furnished to this specification may be as-rolled,normalized,normalized and tempered,subcritically stress relieved,or subcritically age hardened;and Xgrades,x42,x46,x52,x56, and so on., may be quenched and tempered.
More details about API 5L x42,x46,x52,x56 steel pipe ,please visit our website www.bebonchina.com. or if you need line pipe steel, pipes or plates, please be free to contact us by mail [email protected] or call 86-0371-86151827.
tag: API X56 steel plate , API 5L X42 steel , API 5L X52 steel
Source:
Tags:
Related Products