API 5L X42 steel,API 5L X42 steel price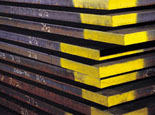 Under API 5L standard, GR.A,GR.B,X42 are the common grade,also the primary grade when API 5L standard was published.
Chemical composition of API 5L X42 are mainly five elements, those are, Si (<=0.45),C(<=0.22),Mn(0.5-1.1),S (<=0.035),P (<=0.04).
Also , API 5L X42 is a grade with the minimum yield strength of 290 MPa and the tensile strength of 420540 MPa. And its permissible yield point ratio is maximum 0.85. Besides, its elongation is minimum 23%.
Same with other API 5L steel, henan bebon can offer steel plate(thickness:5-40mm),steel coil(thickness:5-12mm),steel pipe(OD: 21.3-2540mm ). For the width and length,we can arrange as your requirements.
We have in this line for many years,so if you want to know more information abour API 5L X42 or API 5L X42 price ,please visit our website www.bebonchina.com . If you would buy API 5L X42,please send your details to [email protected] or call us (86-0371-86151827). We guarantee, you will get high qualified steel at low price and standard quality. Expect your letter soon!
we also supply API X56 steel plate , API X80 steel plate, API 5L X42 steel
Source:
Tags:
Related Products