SUS 321 steel chemical,JIS G4303 SUS 321 stainless properties
JIS G4303 SUS321 Stainless steel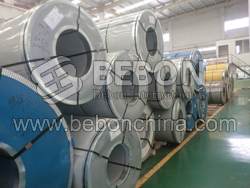 SUS321 stainless steel is the basic austenitic 18/8 steel stabilised by Titanium (321) additions. SUS321 stainless steel is the grade of choice for applications in the temperature range of up to about 900°C, combining high strength, resistance to scaling and phase stability with resistance to subsequent aqueous corrosion.
SUS321 stainless steelchemical composition is :
C ≤

Si ≤

Mn≤

P≤

S≤

Ni

Cr

Mo

Cu

N

Others

0.08

1.00

2.00

0.045

0.03

9.00-13.00

17.00-19.00

-

-

-

Ti ≥
5*C%
SUS321 stainless steel typical applications: Aircraft Exhaust Stacks and Manifolds, Chemical Processing Equipment, Welded Equipment, Jet Engine Parts, etc.
BEBON STEEL is SUS321 stainless steel supplier. We can produce SUS321 stainless steel for the clients according to their special requirement. If you are interested in SUS321 stainless steel, please browse the web pages or contact BEBON STEEL.
Source:
Related Products