ASTM A 515 steel,ASME SA515 STEEL PLATE,A515 GR 60,A515GR70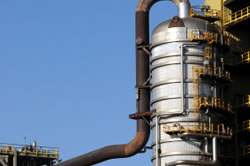 ASTM A 515 covers steel plates of intermediate tensile strength for pressure vessels to be operated at intermediate or higher temperatures. The four grades offer excellent combinations of strength, weldability and toughness to permit designers flexibility in the design of pressure vessels coming under the jurisdiction of the ASME Pressure Vessel Code.
The plates are produced from fully killed steels and may be ordered to have an austenitic grain size from 1 to 5 for improved creep resistance and added resistance to graphitization at elevated temperatures. This material cannot be expected to provide adequate notch
toughness, even in the normalized condition, to perform satisfactorily on low temperature pressure vessels.
CORROSION RESISTANCE
This material has the same atmospheric corrosion resistance as plain carbon steel.
WELDABILITY
ASTM A 515 steels
can be readily welded, using good shop or field practices by all of the usual methods; shielded metal-arc,submerged-arc, gas metal-arc and resistance welding. This material conforms to Welding Category P1 of the ASME Pressure Vessel Code. Since many plates may exceed 0.30% carbon content and 1 inch in thickness, special preheat requirements should be carefully checked. Welded vessels under the ASME code normally will require post weld heat treatment of 1100°F for 1 hour per inch of thickness.
GAS CUTTING
ASTM A 515 steel plates
can be gas cut using good shop or field practices. Plates over 0.30% carbon content and over 1 inch in thickness may display some edge hardening; if this is a problem, preheat to 200°F is suggested. Cutting of this material should not normally be carried out at a metal temperature below 50°F.
FORMABILITY
This material can be readily cold formed using conventional equipment and good shop practices. Grade 55 material provides the greatest degree of formability, with progressively decreasing formability for grades 60, 65 and 70. Suggested minimum cold
forming radii are given in the table.
Source:
Related Products