: 0086-371-86151827
: 0086-371-86011881
: bebonchina@hotmail.com
PDF
A516Gr60 steel plates
download
WORD
A516Gr60 steel plates
download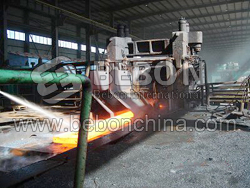 ASTM A516Gr60 steel plate/sheet,ASTM A516Gr60 steel plate/sheet, under ASTM standard, we can regard A516Gr60 steel plate/sheet for simple pressure vessels steel.
ASME SA516Gr60 is a boiler and pressure vessel quality steel which is ideal for moderate and lower temperature service.The material is used extensively by industrial boiler and pressure vessel fabricators who provide manufacturing support to the oil, gas and petrochemical industry. The steel has good weldability and excellent notch toughness.
Chemical Composition of ASTM A516 Gr60/ASME SA516Gr60

Carbon(C)
%
Manganese(Mn)
%
Phosphorus(P)
%
12.55mm or less
12.5-50mm
50-100mm
100-200mm
>200mm
0.21
0.23
0.25
0.27
0.27
12.5mm or less
Heat Analysis
Product Analysis
Over 12.5mm
Heat Analysis
Product Analysis
0.6-0.9
0.55-0.98 0.85-1.20
0.79-1.30

(max)
0.035
Sulphur(S)
%
Silicon(Si)
%
(max)
0.035
Heat Analysis
Product Analysis
0.15-0.40
0.13-0.45
Mechanical Properties of ASTM A516Gr60/ASTM SA516Gr60
Description
Grade60
Tensile Strength(Ksi)
Tensile Strength(MPa)
Yield Strength(Ksi)
Elongation in 200mm(min.%)
Elongation in 50mm(min.%)
Thickness(max/min)
60-80
415-550
32
220
21
25
205
BEBON STEEL can offer A516Gr60 steel,we can give you A516Gr60 Chemical analysis,A516Gr60 Mechanical properties.we register Hundreds of thousands of tons of ex-stock source on our spot trade flatform.If you are interesting in our ex-stock source, you can visit our web,http://www.bebonchina.com/e-store/index.php.
Source:
Tags: A572Gr60 steels, A572Gr60