: 0086-371-86151827
: 0086-371-86011881
: bebonchina@hotmail.com
PDF
S355J2WP steel plates
download
WORD
S355J2WP steel plates
download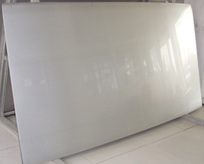 EN10155S355J2WP steel plate/sheet,EN10155 S355J2WP steel plate/sheet, under EN standard, we can regard S355J2WP steel plate/sheet for steel resistant to Atmos-
pherical corrosion steels.
EN10155 S355J2WP steel grade is a hot rolled products of structural steels in technical delivery conditions with improved atmospheric corrosion resistance.The steel grade in S235 a maximum carbon equivalent value of 0.44% and for grade s355 a maximum carbon equivalent value of 0.52% based on the ladle analysis shall for all thickness.The followings are the chemical composition and mechanical properties of EN S355J2WP steel plate.
S355J2WP

DIN EN 10025-5 Number: 1.8946

Comparison of steel grades

ASTM

DIN17100

-

NFA 35-502

E 36 WA 4

BS1449

-

UNI
S355J2WP steel plate Chemical analysis -% by mass*
Chemical elements

C

max

Si
max

Mn

max

P



S
max.

Cu

Cr

max

Ni

max

%,by mass

0.12

0.75

1.00

0.06-0.15

0.030

0.25-0.55

0.3-1.25

0.65





S355J2WP steel sheet Mechanical properties
thickness

Yield StrengthReH[N/mm2]

transv.min.

TensileStrengthRm[N/mm2]transv.

Fracture Elongation[%]transv. min.

Notch Impact

Energy1)Ch Vcomplete samplelongitud. min [J]

t≤ 16mm

t >16mm

355

345

-20 degree

27J

510-680

470-630

Up to 1.5mm

1.51-2.00mm

2.01-2.50mm

2.51-2.99mm

≥ 3mm

14

15

16

17

22
BEBON STEEL can offer S355J2WP steel,we can give you S355J2WP Chemical analysis,S355J2WP Mechanical properties.we register Hundreds of thousands of tons of ex-stock source on our spot trade flatform.If you are interesting in our ex-stock source, you can visit our web,http://www.bebonchina.com/e-store/index.php.
Source:
Tags: S355J2WP, S355J2WP steel plate