S355J2WP properties, S355J2WP quality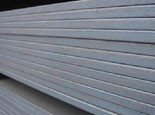 Weathering steel plate: also named atmospheric corrosion resistant steel plate which property is between ordinary steel and stainless steel.weathering steel plate are added more Cu,Ni and other corrosion-resistant elements.This steel owned high quality with a tough plastic extension,forming,welding and cutting,abrasion,anti-fatigue properties.Weathering steel plate are mainly used in welded bridges and buildings,shipping containers.
S355J2WP properties: S355J2WP mechanical properties have been significantly modified by heavy coldforming, either stress relief annealing or normalised may be applied. Normalised should also be applied following hotforming outside of the temperature range of 750 - 1.050 °C and after overheating.
S355J2WP steel is a kind of high tensile strength steel. The S355J2WP steel have tensile strength of"470-630"or"510-680"MPa, and S355J2WP steel yeild strength of"335"or"345"MPa. The fracture elongation of this steel is 20%.
S355J2WP quality:
Bebon promise that we can offer you the qualified S355J2WP steel at the competitive price and rapid delivery time.
Bebon can offer more than 1000 tons s355j2wp weathering steel plate every month. It can also off er S235J2W,S355J0WP,S355J0W,S355J2W,S355K2G2W steel, if you want to know more about S355J2WP properties and S355J2WP quality,please contact us .
Source:
Tags:
Related Products