: 0086-371-86151827 0086-371-86151527
: 0086-371-86011881


News
SUS304 Stainless Steel, SUS304 Stainless Steel Advantages
SUS304 stainless steel is one kind of austenitic stainless steel. Because SUS304 stainless steel has high nickel and was single phase of austenite at room temperature, SUS304 stainless steel is better than Cr13 steel in the high corrosion resistance, ductility and toughness at low temperatures, room temperature and high temperature have a higher ductility and toughness.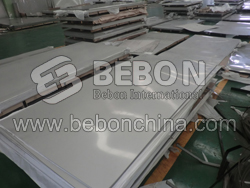 SUS304 stainless steel has many features such as good corrosion resistance, heat resistance, low temperature strength and mechanical properties, stamping, bending and other thermal processing, and no heat treatment hardening, non-magnetic.
SUS304 Stainless Steel Sheets Annealing:
At different pre-deformation temperature of (1040 ℃ ~ 1080 ℃) short and rapid cooling of the annealing process, SUS304 stainless steel sheet tissues fully recrystallize grain size and more uniform, and annealing softening effect is most obvious.
SUS304 Stainless Steel Applications:
SUS304 stainless steel has been widely used in food, chemical, nuclear industrial equipment. SUS304 stainless steel also can be used for decorating, household goods, cabinets, indoor pipes, water heaters, boilers, bathtubs, auto parts, medical equipment, building materials, chemical, food industry, agriculture, and ship parts
Bebon is a
SUS304 stainless steel mill
in China. Bebon can supply large range sizes of SUS304 stainless steel. For mechanical properties of SUS304 stainless steel, please contact us.
Hot product