Complaint case from cutsomers
Marking Of Heat Number Feedback
BEBON after service team will listen customer's real feedback after each order finished. The after service team will learn the merit and demerit from each order, and discuss the improvement with the relevant department.
One of our customer inform that the plates hasn't shown the heat number for the plates during the customer survey.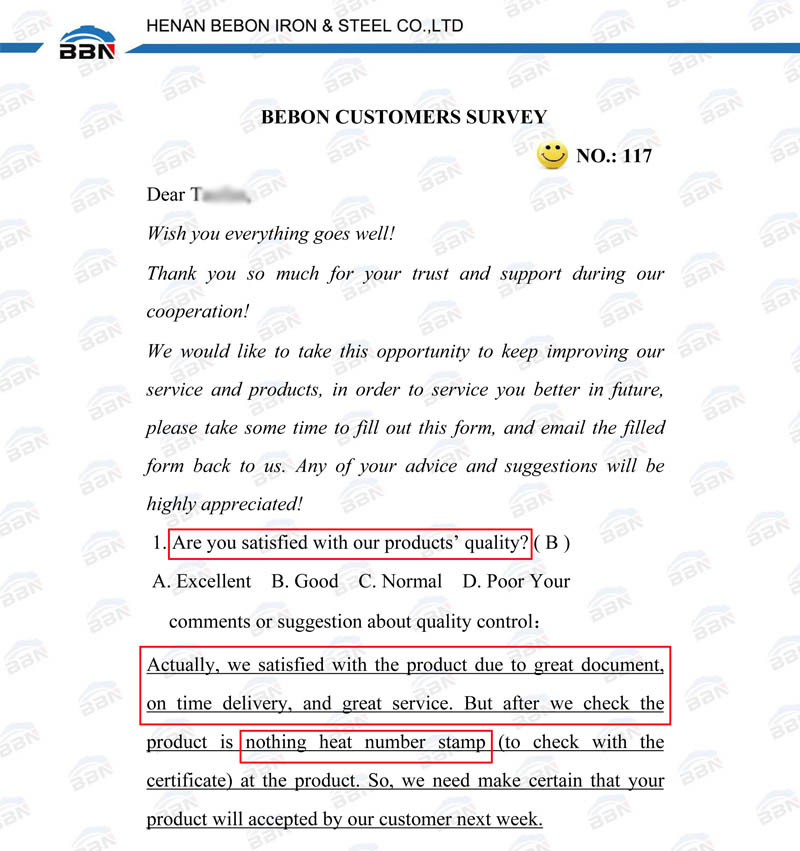 After receiving the this feedback, the after service person checked the agreement between sales team with customer. It is found that there is no marking for the cut plate for each pieces. In order to easier recognize the information, we make one marking for each bundle if there is no special requirement. Considering this issue, Bebon after service team explain to customer. And We take this information in record, we will discuss with customer about the marking before confirming the order. If they have to show the heat number on each piece of plate, we will do it for coming orders.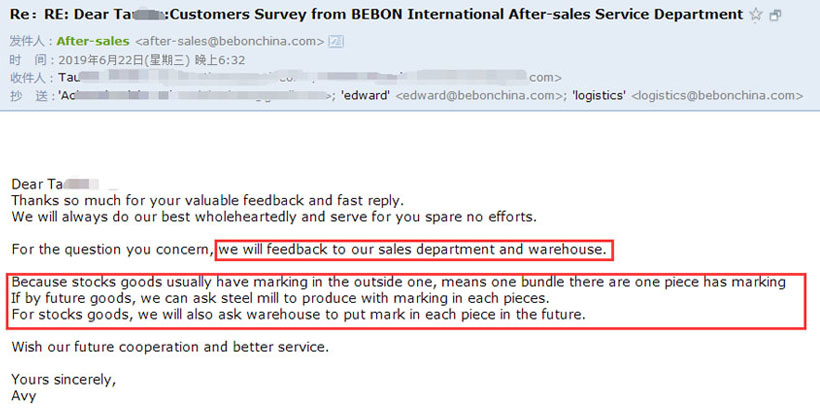 This customer are satisfied with the feedback. And he shared some further information about this order when he read the feedback from bebon after service.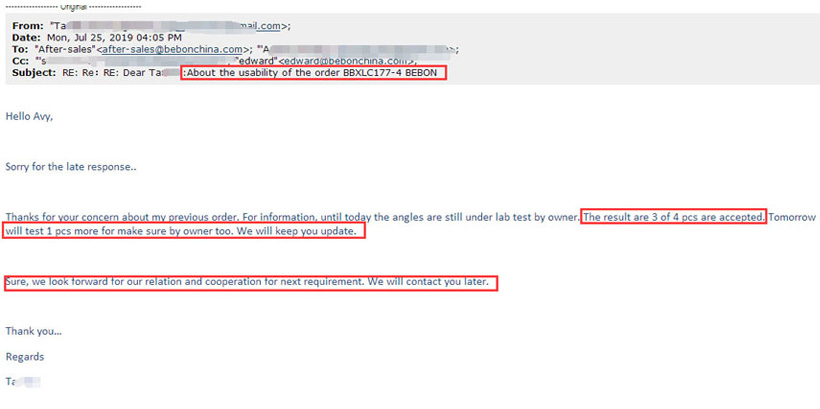 Surface Complaint
The complaint from our client who purchase SUS304 round bar about the surface issue.They thought we supplied the carbon steel material instead of stainless steel because of the black surface.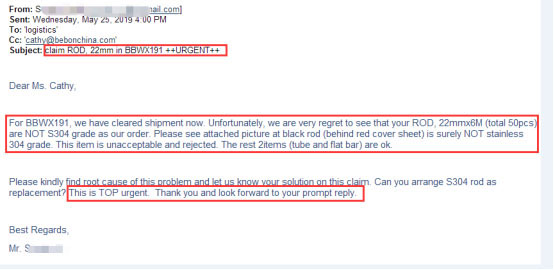 As we all known,there are two types of the stainless round bar,bright bar and black bar.After we received this complaint, our after-sales department Ms Avy reply him at once,and explain why it is the black surface and ask client to inspect the CR ,NI content.If the goods contents with any problem,we will afford the losses.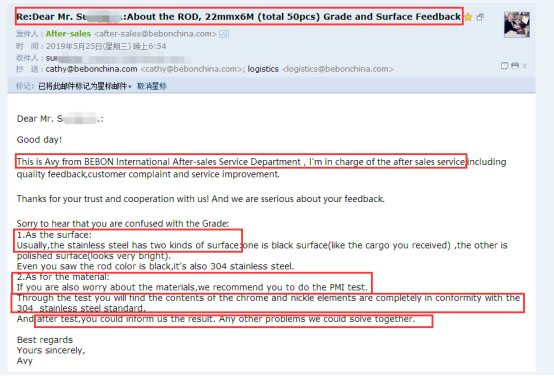 After our client inspected those round bar strictly,they are satisfactory with our quality.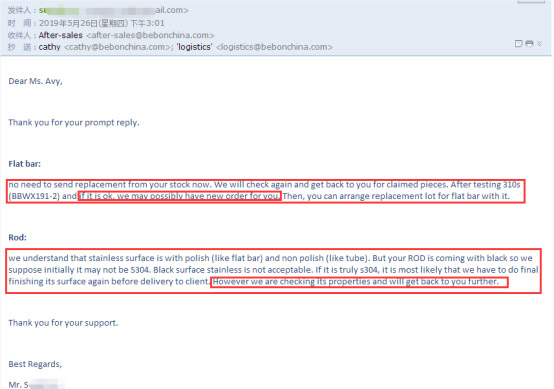 Quantity feedback
After receiving the goods, customer found there is one piece of bar shortage. He inform this issue to our after sales service department.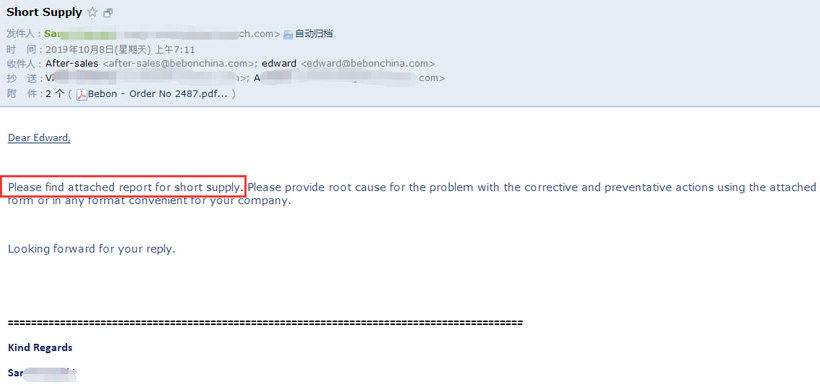 After receiving the email, bebon after service take this issue very seriously, and arrange the meeting with the inspection team and sales team. After confirming the information, Ms avy from after service share the solution to customer.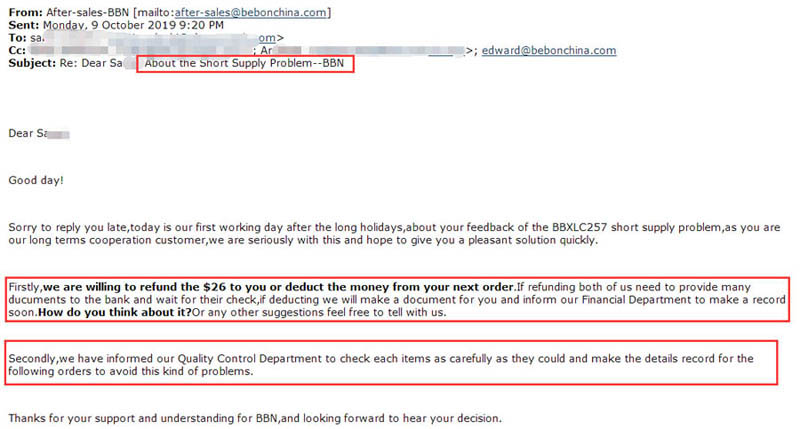 With the sincerely attitude, customer accept the suggestion for this problem.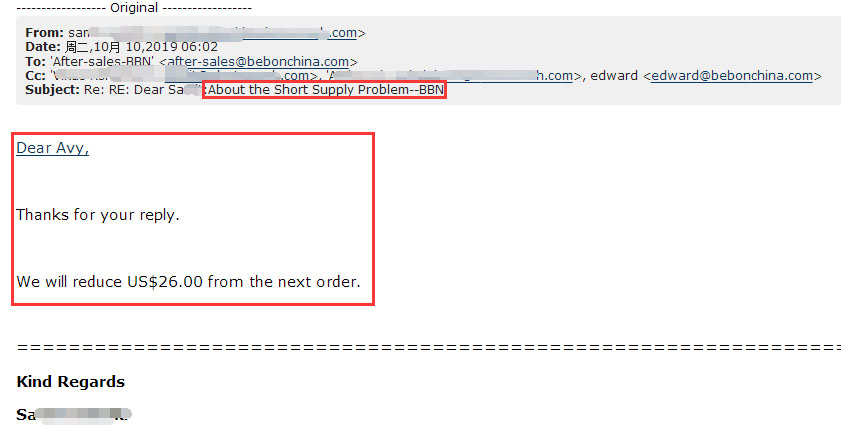 Shipping Complaint
The shipping complaint from our client,we quoted him under the CIF terms by the Liner terms so the shipping company need afford the unloading. But the company can't afford. Anyway, they have good feedback of our goods.

So our after-sales department send email and express our regret, and will check with the shipping company complaint this situation.