: 0086-371-86151827
: 0086-371-86011881
: bebonchina@hotmail.com
API X60 steel plate,API X60 steel supplier,API X60 plate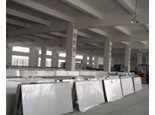 API 5L X60 steel specifies requirements for manufacture of two product specification levels (PSL 1 and PSL 2) of seamless and welded steel pipes for use in pipeline transportation systems in the petroleum and natural gas industries

CHEMICAL COMPOSITION(PSL 1)

SEAMLESS PIPE

C

Mn

P

S

V

Nb

Ti

max

max

min.

max

max

max.

max.

max.

0.28

1.40

-

0.030

0.030

f

f

f

WELDED PIPE

0.26

1.40

-

0.030

0.030

f

f

f
Bebon supplies high quality API 5L X60 steel plates and pipes which are available in various sizes. These steel plates and pipes have temperature and pressure range substance flowing property.
Specification:
Thickness: 5mm--40mm
Width: 1500mm --3800mm
Length:3000mm-18000mm
API 5L X60 steel has Min Yield Strength of 415MPa, and the Min Tensile Strength is 520MPa.
f. the sum of the Nb, Ti and V contents shall be ≤0.15%
API 5L X60 Steel Application:
This International Standard API 5L are used in pipeline transportation systems in the petroleum and natural gas industries.
Bebon Steel can offer you API 5L: X60,Gr.A,Gr.B,X42,X52,X65,X70 steel at the competitive price and rapid delivery time. If you need any offer or need consult for the any technical requirements, please contact us at any time.
we also supply API 5L X56 steel , API 5L X52 steel plate , API 5L X52 steel
Source:
Selling list