A 572 Gr.42 steel plate,A572 Grade 42 mechanical properties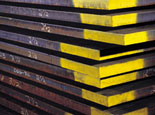 A 572 Gr.42 steel plate is high strength low alloy columbium-vanadium structural steel grade. A 572 Gr.42 steel intended for riveted or bolted construction of bridges.
The equal steel grade is JIS SM570, GB Q460, EN S355JR and so on
Bebon has much experience in exporting A 572 Gr. 42, A 572 Gr.50, A572 Gr.55, A572 Gr.60 and A572 Gr.65. We cooperated with Korea and America Company in this steel grade and have a good reputation in steel quality.
If you have need in A572 Grade 42 steel plate, we will use our best quality and the fastest delivery time to satisfy your Demand.
For more information of A572 Grade 42, please refer them in following.
A572 Grade 42, The Chemical is max composition of heat analysis:
C % 0.230 Si % 0.400 Mn % 1.350 P % 0.040 S % 0.050 V % 0.060 Ni % 0.015 Co %0.050
A572 Grade 42 mechanical properties steel plate
Min Yield (Mpa) 450Mpa
Tensile(MPa) 550Mpa
Elongation(%)17%
Source:
Tags:
Related Products